We put everything together….
Now come and join the good life driving a JEEP™
TOUR TO "CRISTO REDENTOR" AT THE ANDES MOUNTAINS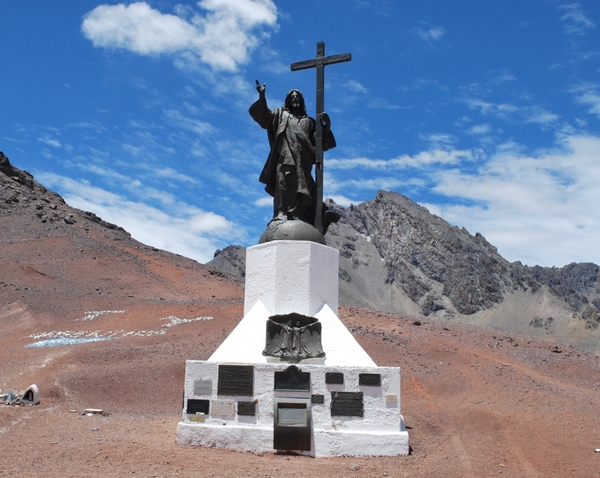 Located in Valparaiso region and 164 km from Santiago and at 2860 mts, above sea level Portillo Ski Resort is one of the famous Ski Centers in Chile and South America.
Open year around, the area offers activities in summer like trekking around the Laguna del Inca, kayaking (if the wind is not to strong), mountain bike, or simple take pictures from the enormous Mountains around the Hotel.
From Portillo Ski Resort, to the Cristo Redentor (Christ the Redeemer of the Andes) the route continue uphill to 3832 mts in the depth of the Cordillera de los Andes on the border of Argentina and Chile. It was unveiled on March 13 1904 as a celebration of the peaceful resolution of the border dispute between Chile and Argentina.
From here you can see both sides of the Andes, to Mount Aconcagua the first highest peak in South America, and capture the beauty of the colossus mountains with eternal snows.
Full day tour of 12,5 Hours From: 09:00 hrs. to 21:30 p.m.
Premium Service in a Jeep Wrangler: All inclusive
Departure from: Santiago – Arrival: Los Libertadores Border Crossing and return.
RATES: CLP $ 192,000 – USD $ 240 (PRICES PER PERSON)
Number of passengers: 2 minimum – 4 maximum.
 Suggested Itinerary
Pick up at the Hotel at 9:00 am in Santiago, to head up to the north toward the Ruta Internacional 57 to Los Andes and then Cuesta Caracoles
On the route we stop at several point of interest like Monumento batalla de Chacabuco, Salto del Soldado, Cuesta Caracoles.
We continue to the Cristo Redentor climbing the old route to Argentina, before the Tunel was made in 1980.
On the top around 3800 mts over sea level, we will enjoy the magnificence view of the Andes.
After lunch we start a trekking around Laguna del Inca for 2 hours approximately.
Return to Santiago the same route via Los Andes at 19:00, arriving at 21:30 to the Hotel.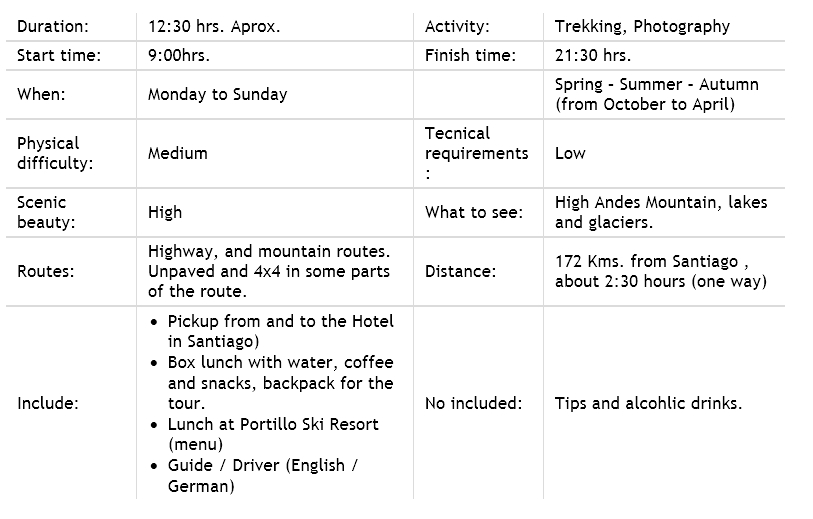 RECOMMENDATIONS

Comfortable footwear (preferably trekking shoe), technical clothing (preferably three layers, given the climatic changes in the high mountains), windbreaker, sun hat, lenses of sun, sunscreen, and lip balm.